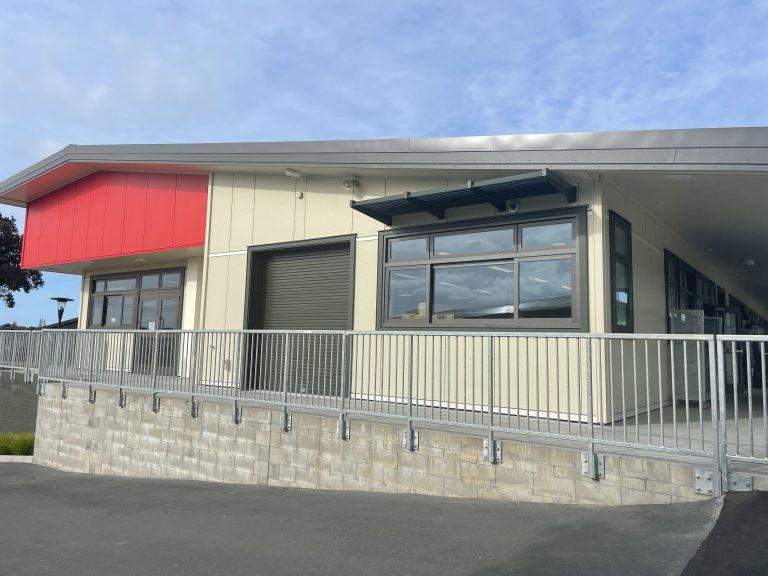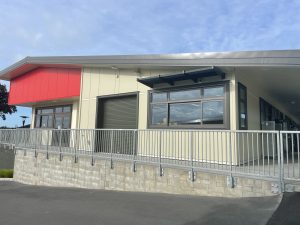 When looking to do well in an exam and the clock is ticking, one of the keys to success is to budget your time so you complete your work fully in the time allowed. For this and many other reasons White Associates is exceptionally proud to be part of the team that has delivered the new science and technology buildings at Macleans College for the Ministry of Education on time, and to budget.  
A finalist in the Education Property category of the 2022 Property Industry Awards run by the Property Council New Zealand, this exceptional $7.4 million project is the first stage of a bigger multi-phase project at the college. 
Involving Justin Maritz and Richard Moore-Savage from White Associates as part of a wider project team that included C3 Construction, Pacific Environments, MEPS Engineers and BECA, the project came about because the the science and technology block at Macleans College in Auckland was in poor condition and required replacement. It required the design and building of new, modern teaching spaces tailored to the school's pedagogy that also meet the Ministry of Education's design standards, including requirements for natural ventilation. 
Inevitably, the school needed to remain fully operational during works that would include the demolition of ten existing buildings and the construction of 16 new classroom teaching spaces. As the brief called for all accommodation in the development to be provided under one roof, enabling high quality education for over 2,500 local and international students, the need to provide specialist teaching programmes without building temporary accommodation drove a decision to split the scheme into multiple buildings, which also aided access around the site during the construction period.  
With design getting underway in 2018 and a construction period for this first phase lasting from 2019-December 2020, White Associates provided full quantity surveying services including pre-contract, procurement and post contract cost management.  
Responding to emerging challenges 
Inevitably, challenges emerged on the project as fast as unexpectedly nasty questions in an NCEA mathematics exam. 
Richard Moore-Savage, the leading Associate on White Associates' work on the project, says that the costs for this first stage of the project were skewed by it being the first of a complex, multi-stage construction project in an active school environment.
"The first stage required the project to absorb some of the whole-project fixed costs on site, such as infrastructure. The majority of ground works for the development, including drainage, stormwater management and works to the existing transformer were incorporated into the costs for this stage.  

"We also needed to ensure that sufficient allowances were made in the estimate for costs associated with isolating the live school environment from risks associated with demolition such as dust, noise and contamination. The programme also needed to respond to specific staging in order to accommodate out of hours demo as this would have a financial impact as well." 
Then unknown site conditions, which included un-engineered fill and asbestos pipework, caused delays early on in the programme. However, when these previously undocumented in-ground services were discovered, the Ministry of Education invested in the civil infrastructure to bring installations up to current standards and reduce future maintenance costs, says Richard. 
"As we are well versed in working on existing sites, we worked with the contractor to identify unforeseen underground services on the risk register and allocate suitable risk contingency to the project budget. So, when a water mains pipe, school bell cable and fibre-optics cable were discovered on site, our contingency allowed the team to focused on mitigate the risk and associated cost." 

This ability to flex he says was all due to the quality of the relationships built on the project. "The best thing we have done is to build – and keep – strong relationships with the client, contractor and the project team throughout this project. This involved finessing negotiations with the contractor to avoid an adversarial stance; always kept friendly, resulting in us assessing and agreeing variations quickly in a fair and reasonable manner, quickly without resistance." 
This was exceptionally useful says Richard when the costs for the technology block internal wall framing system came in above budget expectations.
"Recommending that different design options be explored, we initiated a change in specification of internal light steel wall framing to reduce costs. The substitution from an Australian supplier to product manufactured in Auckland was proposed by the contractor, and It saved $120,000 and 18 weeks of programme. This required collaboration between contractor and design team on structure and bracing."  
Working in a live school environment also created tests of the programme that needed to be met, he adds.
"Challenges involved working around school-imposed conditions such as acoustics during the examination seasons, asbestos removals over weekends and holidays, and the school requesting design changes. By planning thoroughly and facilitating open communication channels with the school, Ministry and all stakeholders, we helped to ensure a smooth project delivery while minimising disruption for students, teachers and visitors. In doing so, we applied our experience in working on fully operational sites such as Mt Eden Correctional Facility Building C, the Rimutaka Rapid Build, and at Marist School amongst a number of other projects." 

The key to the real value provided by White Associates though revolved around the ability to maintain strong relationships even while applying strict financial management of payment claims and variations, says Richard.
"Maintaining a healthy and collaborative relationship with the contractor meant that variation values were negotiated on a fair and reasonable basis, and by working together to identify alternative products the team achieved cost savings to client without any loss of quality. Further, working closely with Macleans College has produced an extremely flexible building with a floor plate tailored to the school's needs." 
Achieving practical completion just before Christmas in 2020, in one of the most disrupted years in the New Zealand construction sector's history, was the cause of some celebration, Richard says.
"It tracked against programme extremely well given the challenges of the global pandemic and unknown site conditions, due to a focus on forward planning from a committed and enthusiastic team. And, personally speaking, my proudest moment is that our work on the project received an extremely high score from the Ministry for our service." 
Always looking for a good mark from any test, Richard was particularly pleased that the Ministry of Education's appraiser Farman Iqbal scored White Associates 96 out of 100 across a range of criteria, one of the highest scores given, saying in his comments: "With a difficult changing project the team has been very good with working with the Ministry. Always aware of any changes are work really well with the school and MoE to facilitate and work through them. (White Associates) also work extremely well with the consultant team and the main contracting team with a collaborative approach to variations and costs associated.  
"Whites have been really good in helping with items out of scope to help with the MoE's internal project funding allocations. With a project that has been split into multiple projects Whites have helped immensely to tidy this up. With a project that has so many variations Whites are always up to date with variations and getting out instructions to the contractor in a timely manner." 
Excellence.