At White Associates we do love it when projects receive awards recognition. One that keeps on giving in this respect is a redevelopment project for Plant & Food Research that has been nominated for the Naylor Love Heritage and Adaptive Reuses Property Award at the upcoming Property Council NZ Awards.
Seemingly involving just about every part of our business, this $40 million series of complex and multi-faceted projects demonstrates the intensive cost management work we do to meet the precision required for work in professional scientific research laboratories, involving Konrad Trankels, Graham White, Justin Maritz, Paul Crockett and Weng Tan across a range of disciplines and buildings across a swathe of time lasting from 2013 to 2019.
Project durations:
First budget estimate – Q1 2013
Server room upgrade – Sept 2014 to Dec 2014
Cunningham Building – Nov 2014 to Aug 2015
Hamilton Building (incl. ground floor fit out) – May 2015 to Jan 2019
Padfield Sensory – Aug 2016 to Aug 2017
The client and its needs
To appreciate the breadth of activity over the last seven years, it is worth starting at the beginning: with the client and its needs.
Plant & Food Research is a New Zealand Crown Research Institute, a science organisation that provides research and development that adds value to fruit, vegetable, crop and food products. The organisation occupies a beautiful campus in Mt Albert in Auckland, providing a workplace for more than 350 people. However, the campus was feeling its age, and to enable the institute to be able to do its work properly in the 21st Century the buildings needed to be brought up to a new standard.
From a property perspective, the campus comprised the seven-storey Hamilton Building, originally built in 1967, plus its neighbour, the Deco-inspired Cunningham Building. Under the project, these and other buildings have undergone a significant redevelopment and upgrade (alongside the creation of the purpose-built Padfield office and research facility) to create state-of-the art science facilities and laboratories along with modern, future-focused workspaces, all to ensure that Plant & Food Research can continue to deliver high quality science for New Zealand's plant and marine-based food industries. This has involved seismic upgrades, replacing the roof and facade, as well as the interior accommodation of four floors of laboratories and three floors of office space.

More specifically, works included asbestos removal, interior fit-out demolition, mechanical, electrical and plumbing work, upgrading and reinstating internal fitout, new plant, facade enhancements, a new security system, and a main services upgrade. And, significantly, the high-precision buildings had to remain occupied and operational throughout the project.
This considerable set of requirements required White Associates to provide a full range of quantity surveying services, including initial estimates, contract preparation, tenders and post-contract cost management. Moreover, working as the cost manager on a science-specific building meant that White Associates had to understand all of the complexities of the different functions of the buildings, and in great detail – from infrastructure, structure, fitout and services – so we could properly incorporate all the science-specific spaces such as laboratories.
White Associates director Graham White describes the project, as well as the initial learning process, as "incredibly complex", saying that the mix of 20th Century structures and exacting 21st Century scientific requirements presented just the start of a rare challenge.
"Imagine gutting an old multi-storey building, with all the limitations of working within an existing structure,"  he says.
"Completely stripping the building back, taking it back to its concrete shell, reveals all sorts of things on its own, before you even think about a new roof and cladding. Then add the complexities of doing all of this alongside working laboratories, with scientists doing intricate research that requires highly tuned equipment.

Further, because work took place on site over a four-year period, we needed to deal with the evolving nature of the project, as well as materials and labour costs. And, if that wasn't enough to manage, decisions were also made during the process to add the fitout of a further floor"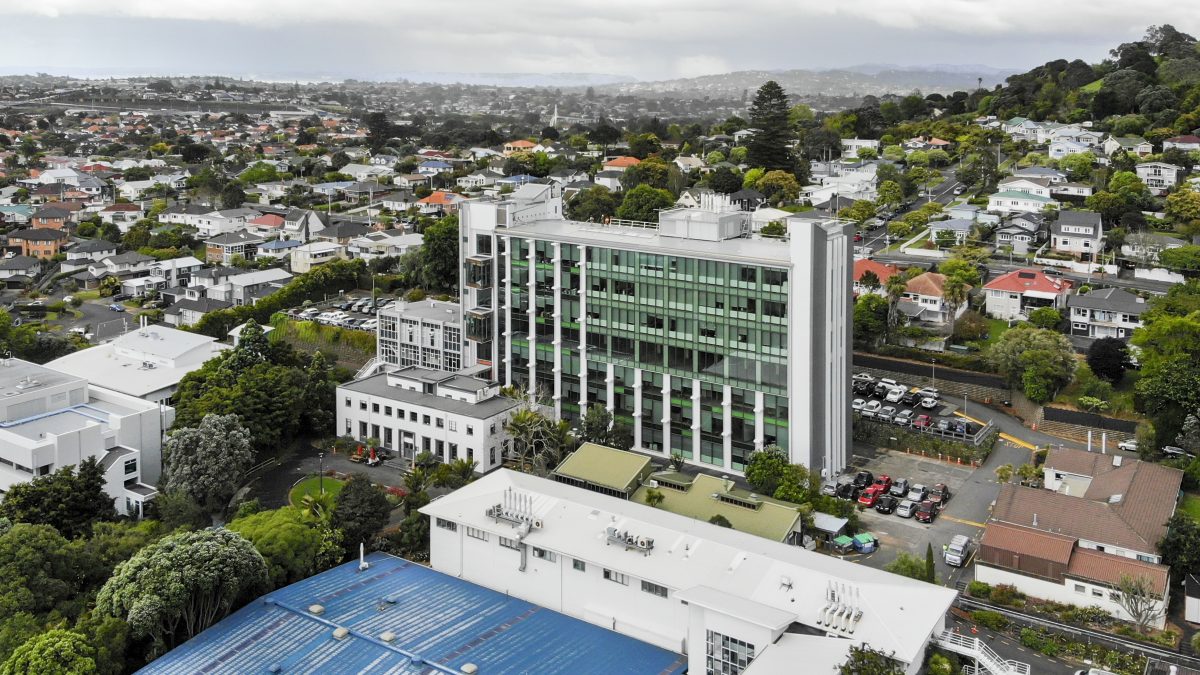 Weng Tan, who managed much of White Associates' post-contract work on the project, said that the only way to live with the omni-present complexity was to be methodical and to plan for – and deal with – the challenges while progressing towards the overall desired outcome.
"We started with a small project of upgrading the server room, then started works on the Cunningham building." he says.
"Halfway through it, we moved onto the Hamilton building, before Cunningham was finished. We worked carefully, moving from floor to floor, advising the client when each floor would be ready."
This all sounds reasonably straightforward, but as with all best-laid plans the key is to be able to adapt as they change and evolve. So, what caused challenges?
Fixed budget in place, knowing surprises would emerge
Because of the age of the buildings, it was inevitable that surprises would start to come through during demolition, says Weng, who adds that White Associates director Konrad Trankels had factored this into his approach in the earliest estimating phases.
"A challenge for Konrad was not knowing exactly what would be found once demolition got underway. Floor levels might be out of alignment, or services might not be where there were designed to be, for example. Because we knew we had a fixed budget to work with during construction, we had to create and build up a floor-by-floor budget bandwidth for the project, particularly as it would be built over 3-4 years. Cashflow and accuracy of payments were the key to ensuring delivery within budget. We therefore needed to work closely with the contractor to identify variations, putting costs against them and advising client of them at the earliest point.

This meant the project had to be staged floor by floor. The method we came up with was this: if we found errors on a floor, we could likely assume it would be happening on all seven floors. This level of forecasting helped us to put budget aside for each floor. The client would then populate the floor, and construction would move to the next one. By being on top of the budget forecast floor by floor, we could evaluate the challenges as we found them."
Marrying design requirements with the investment case budget
In an environment of on-site discovery, clarity of design was very important. White Associates' solution was to work closely with the client and the design team to gain a clear understanding of all non-negotiables from a design perspective, says Weng.
"We worked with everyone involved to arrive at a solution that was fit for purpose and able to be delivered on budget within a forecasted contingency spend.

"When completing initial feasibility costs, we assumed potential requirements of the building that were validated with the design team in order to arrive at a robust project budget. We believe our ability to communicate effectively with the wider design team assisted in realistic budget expectations. Once realistic budgets were set, the client had the ability to move forward and procure required scope of services. We needed to work closely with the design team in delivering the project on budget within a forecasted contingency spend."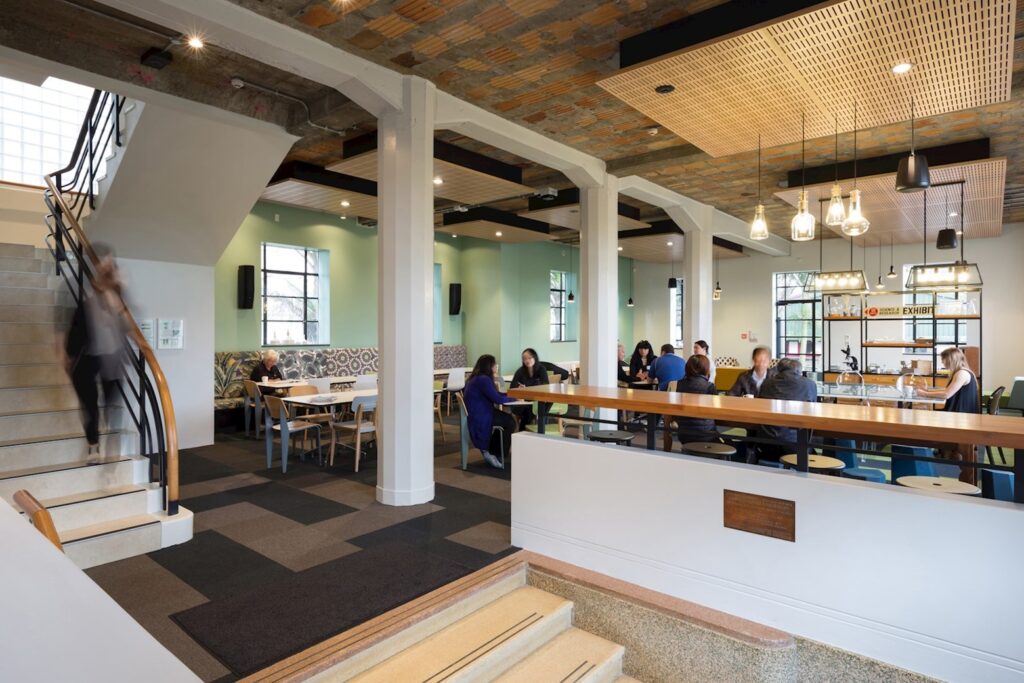 This led to a decision to negotiate an extension to the contract, which added the fitout of a further floor.
"The client's requirement was for the additional work to be done at the same unit rates as the main contract works," says Weng.
"The main challenge this created was in the services trades, which required analysis of unit rates, labour rates and productivity outputs for each subcontractor's price for the main contract works and the additional work.

Our analysis resulted in reductions to the proposed cost of the additional works, and at the end of our analysis the client was satisfied that the proposed cost of the additional works was at the same unit rates as the main contract works."
Bringing subcontractors on board for the journey
To achieve a better understanding of these costs, bringing subcontractors further into the team was a big contributor to the project's success, says Weng.
"A trend over the last ten years has been bringing contractors into the design earlier, and the next trend is to bring subcontractors in if you're confident in the value you're getting from them.

Early on it was agreed that we would need to bring on subcontractors, and for the services in particular. We went through a process to get them to be part of the team, and then as the design was updated we would work with them on the price for their trade. By doing this early we could plan earlier and they could advise the design team, particularly on staging. When you're doing air conditioning for example, it doesn't go in floor by floor, so when you break it down building by building, floor by floor, it needs re-sorting."
Placing modern workplace design and scientific environments into old fabric
One of the key objectives of the overall project was to encourage greater collaboration between staff groups within Plant & Food Research by introducing a range of alternate ways of working to traditional workspaces. Architectural ingenuity, such as introducing double-height spaces to link the floors vertically, came to the fore, in turn requiring cost expertise to provide services in modern workplace design and scientific environments.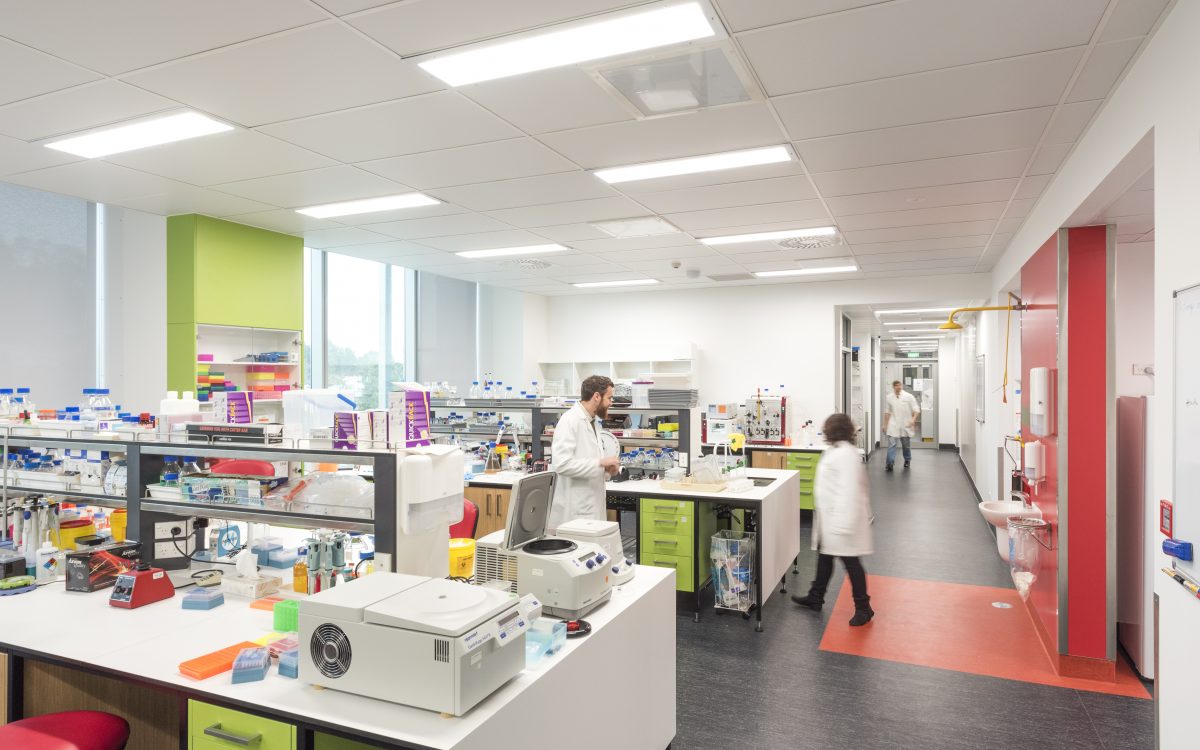 Design-wise, a JV between renowned Bossley Architects and Lab-works Architecture, which specialises in labs merged two forms of specialty to create a beautiful and functional building.
"It went really smoothly," says Graham.
"There was good demarcation between specialties, as Bossley had full rein on interior break out spaces and exterior cladding, for example, and Lab-works made the most of the sterile laboratory spaces on each floor. Together they created a brilliant work environment."
Graham says that client was also 'brilliant', taking a hands-on, highly involved, big picture approach.
"It was extremely difficult for them trying to build a facility; scientists being led through a long change management process. Having worked in the buildings in one way for 30-40 years, the project created complete change in both how they work and the laboratories themselves. They met it by running a big process for their people, which of course needed coordination."
This underscored the importance of understanding the client's requirements and their non-negotiables at the project outset, to be able to set realistic budgets for them to make their key decisions around, says Weng.
"Labs are incredibly complex buildings. The builders have also had to adjust their attitude to what they are doing, because there are so many challenges. Plant & Food Research science is a very high-precision activity across so many aspects, including air quality, air pressure, condensation, with very high tolerances. The exactness of their instrumentation is astounding.

This meant two things for the project. Firstly, extremely high quality design and construction, and, second, no form of vibration in the building was allowed while Plant & Food Research were doing their work. We needed to give the client great heads-up for any noisy works so they could avoid it."
Complete building upgrades taking place in an operational environment also require key components to be fully understood and costed in initial budgets to allow the client the right level of cost advice in order to make key decisions at the project inception stage, Weng adds.
"The client must be able to stage the project in a particular manner to allow for key budget cash flow requirements. The level of quality and specification for this highly serviced facility has been at the forefront of everyone's decision, and it was managed effectively to ensure that it was not compromised."
Outcome: all complete within budget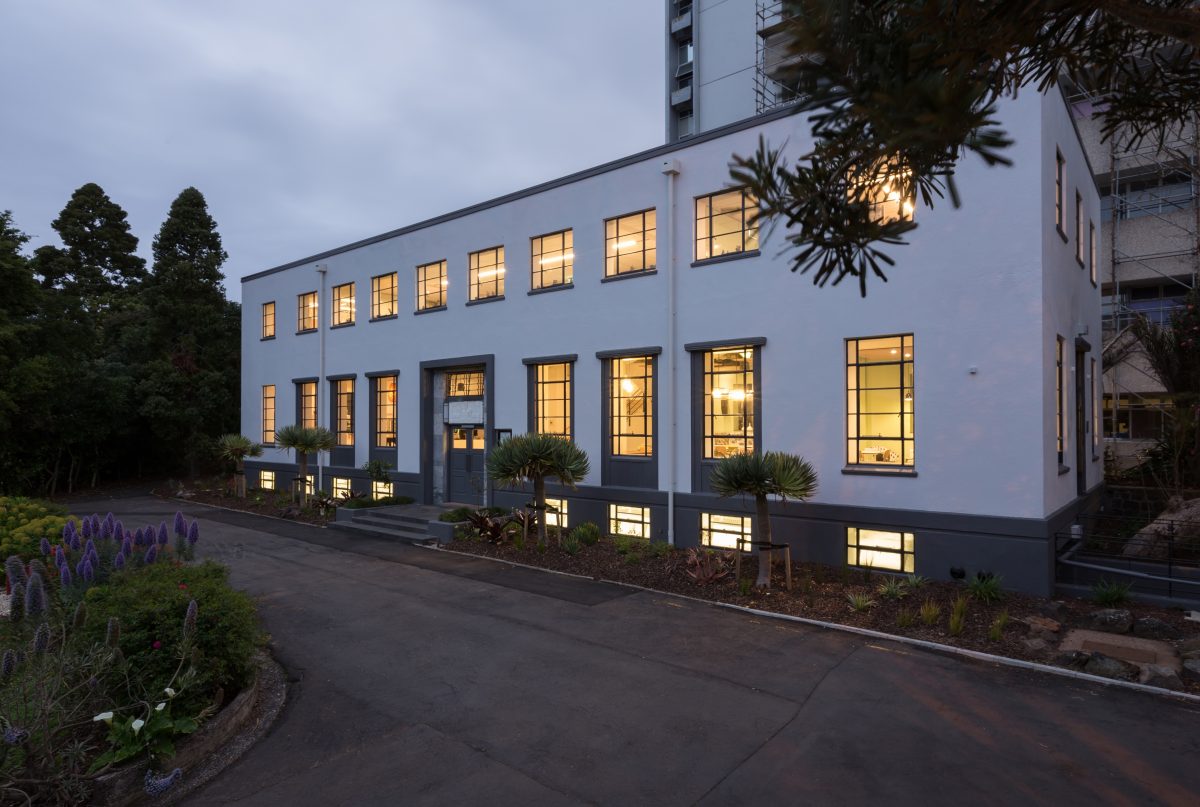 On 22 November 2018, Prime Minister Jacinda Ardern and the Minister of Research, Science and Innovation, Dr Megan Woods, opened Plant & Food Research's new facility.
"This redevelopment has been a huge project, but the result – the new high-quality, purpose-built facilities of the Hamilton, Cunningham and Padfield buildings – will allow us to deliver more and better science for our partners and New Zealand," said David Hughes, CEO of Plant & Food Research, at the opening.
"Through a combination of fundamental and applied science, much of which has connections to our Mt Albert Research Centre, we will deliver a smart, green future for our industries, for New Zealand and the world."
Graham White agrees, adding:
"Six years ago White Associates started putting numbers together for this complex project, and delivery occurred within budget, even over this substantial period of time. It was immensely satisfying to see it completed to such exacting requirements, on budget, and we are all so pleased that it has been nominated for a Property Council award. Our fingers are crossed that it will do incredibly well."
……………………………………………………..
To view a timelapse of the project posted by Plant & Food Research: 
https://www.instagram.com/p/BqbHmQql3Iu/?utm_source=ig_web_copy_link