At White Associates we are strengthening our leadership structure in order to develop our people and support the continued growth of our business into the future.
We are broadening our director base
Alongside Konrad Trankels, Graham White, Justin Maritz and Darin Bayer we are pleased to announce that Brett Zeiler has taken the opportunity offered to become a director of our business. A well-recognised leader within our business, Brett has been instrumental in helping us achieve much over recent years, and his directorship is well earned.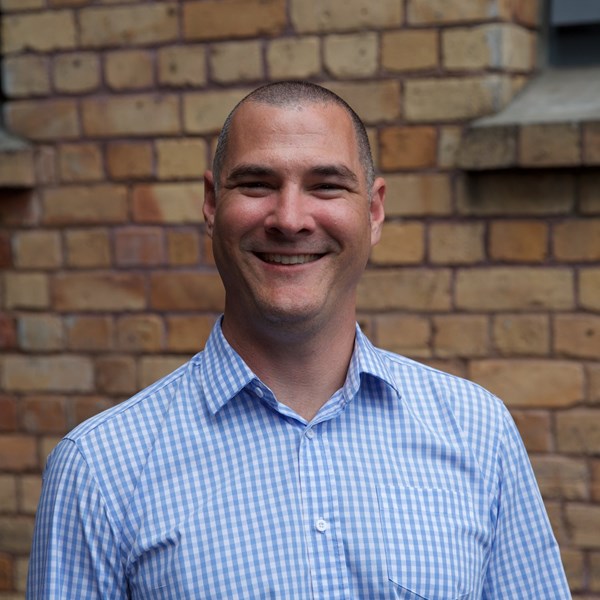 Says Brett: "It has always been my ambition to become a shareholder – director of a company, and particularly this company, where the whole team right through to the directors and shareholders work so well together. It has always felt like  such a natural fit for me within the White Associates team, and it is hugely rewarding for me to be invited into the ownership structure. I'm really looking forward to an exciting future working within a great team."
We have created a new Associate level and appointed four Associates
As part of our succession planning and to provide more opportunities for our team, we have created an Associate level to provide opportunities for our emerging leaders to lead the management and delivery of our projects.
It is a natural progression to promote four of our senior QSs to being Associates, and our first four Associates are Muriel Gondipon, Weng Tan, Ian Chamberlain and Jesse-Paul Conradie, all of whom are well recognised in our team as exceptional people and leaders of client work.
Our four Associates are now the key operational managers of our client work, holding the day-to-day leadership role in managing our project delivery. Working closely with our directors and their own teams, they will cover at least two spectrums of work each:
Muriel – post-contract and advisory
Weng– post-contract and funding
Ian – post-contract and advisory
Jesse-Paul – funding and advisory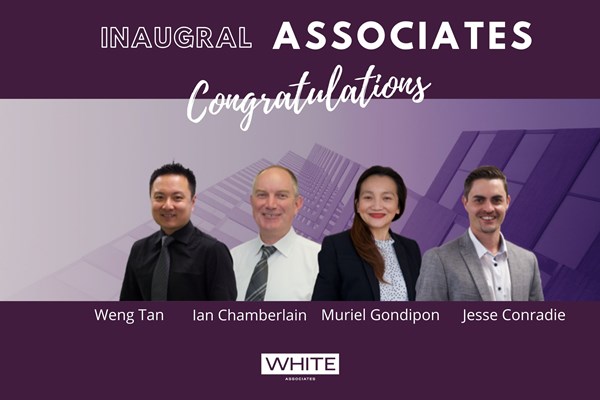 Our Associates will also work with our senior QSs, our intermediates and juniors to bring our cadets in and up through the business.
All White Associates clients will continue to have a director involved in their projects
This structural strengthening improves our ability to provide great service and adds to our quality oversight and control. It makes our service more resilient and demonstrates to our clients the trust and value we place on our key people, giving our clients greater access to our senior staff.
Konrad Trankels says: "This new structure sets White Associates up for the next step in our growth as a business. As our team has grown past 30 people, we needed to strengthen our structure and processes to deliver projects effectively for clients and to maintain the level of service we aim to deliver for our clients.

"As a maturing organisation, these changes will enable our directors to focus more on our business strategy and the future needs of our clients while providing experienced Associate leaders to manage projects. We want to build a strong, stable and rich working environment for our team as we grow, and enable our directors to work on the business as well as with our clients so we can develop and grow further still."
Justin Maritz adds: "This is great news for our people because it opens up potential for everyone in the company to grow. We have always said that we are focused on building the company and leaders from within. We needed to create a step up between senior QS and Director to provide growth opportunities for our people. The Associate role creates a promotion pathway for people who are exceptional at managing clients and projects, and this new structure is a natural progress that adds value to the company and our clients.

"As we grow, we are still relentlessly keen to provide a great quality of service along with great quality control. Now we have the ability to acknowledge the skillsets of people delivering on projects and give our people a clear pathway to growth. It is an exciting time for our company, our people, our clients, and our prospects as a business."